HOW TO MEASURE
Custom Made Mens Suits
Whether you're looking for a tailored fit or want to choose your own design, our made-to-measure suits are personalized to your needs.
• You choose the style, fabric, pattern and details.
• Your measurements are taken and applied to the pattern.
• Your dress or suit is made and when it's ready, you'll come in for a final fitting and adjustments.
Made-to-measure services are available for all suits you choose
Men's Suit Size Guide
There are two essential components when it comes to buying menswear: fit and size. The fit is the overall shape of that particular suit, blazer and so on. Size is the number that describe the body size. You may also use our tool to help you find your size.Moreover, please wear close-fitting clothes when you measure size.
How to Measure?
1. To Measure Shoulder Width Measure joint-to-joint from shoulder tip to shoulder tip. This can be done with your back facing your friend who holds up a measuring tape.
2. To Measure Chest: Bring tape measure around the widest part of your chest, under your arms, completely around your torso.
3. To Measure Belly: Measure around the fullest part of the stomacj or right below your botton ribs.
4. To Measure Waist: Measure around the smallest part of the natural waist.
5. To Measure Sleeve Length: Start from the shoulder seam and measure to about two inches below the wrist.
6. To Measure Jacket Length: Measure from where the shoulder seam meets the collar seam to your desired jacket length.
7. To Measure Hips: Measure around the fullest part of your hips and seat (tailor term for bum).
8. To Measure Thigh: Measure the circumference of your thigh at its widest point
9. To Measure Crotch: Measure through your legs and measure to the top of the waist on the back.
10. To Measure Pant Length Measure vertically from the top of where you want the trouser waist to sit down along the side pant seam, to the desired trouser length.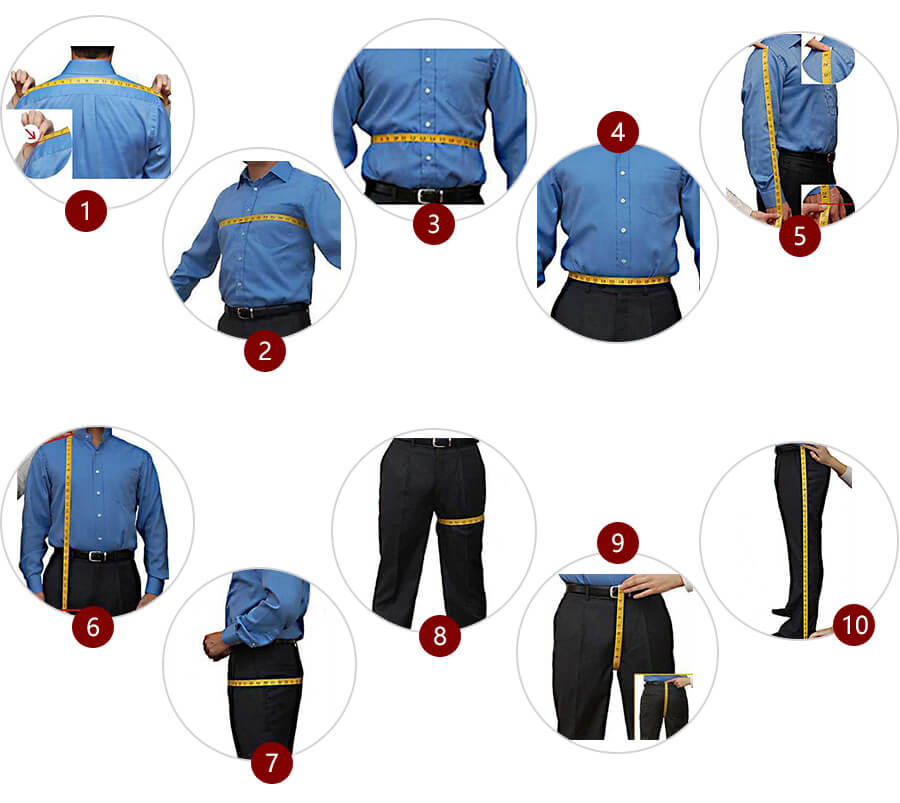 It's that easy.
Once you have all your measurements you can order your very own Made to Measure, dresses,suits or something from our Bespoke range.